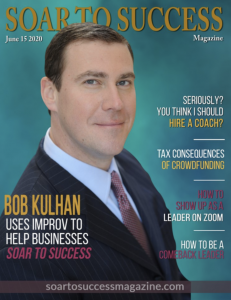 Have you ever been in a business meeting or situation and found yourself thinking about what you were going to say next, instead of actively listening? Do those conversations end up building trust between you and the others? These scenarios cease to be a problem when you are trained in Business Improvisation®
Bob Kulhan has been helping business people understand and react more successfully for over 20 years, using his skills in improv.
He was a member of Chicago's famed Second City acting group and has performed in the iO and Annoyance Theaters, as well as the PIT in New York City.
In our interview, Bob explains his technique of, Yes, And, explained in his book, "Getting To YES And-The Art of Business Improv." The phrase, Yes, and, is the cornerstone of improvisation. For example, in a sales conversation, rather than being satisfied with a No answer, or an objection to your presentation, simply respond with, Yes, And — what can we do to make our product work for you? Always keep the client engaged and let them tell you what they need and explain how you can fill that need. Read More